French former policeman turns to animation to warn tourists of crime
Safety Scouts Advice is a series of free clips designed by Christophe Gadenne that advises on how to avoid scams in Paris and other European cities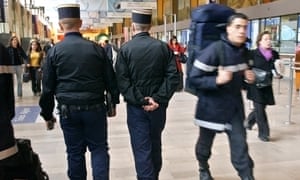 Today, four years after leaving the police force, Gadenne, 35, has produced a series of free, short, animated video clips advising holidaymakers how to avoid being robbed and ripped off. The Safety Scouts Advice series covers most of the scams that tourists face when they arrive in Paris.
You are sitting on a sunny cafe terrace enjoying a drink when someone slaps a petition on the table and asks you to sign it. You smile politely and shake your head and they disappear … along with your phone or purse. Or a complete stranger come up and hugs you while rifling through your pockets, or insists you accept a "gold" ring they have supposedly picked up from the floor. Or maybe the taxi has taken you way out of your way en route from the airport to your hotel and is demanding an extortionate fare.
The videos, most of them less than a minute long, are produced by Gadenne with the help of English-speaking friends, and have been translated or subtitled into other languages, including Chinese, Korean and Romanian. They were originally made for visitors to Paris, hence the Eiffel tower in the landscape, but have since branched out to common crimes in other capitals.
"When I was a police officer, I dealt with literally thousands of victims of aggressions and crimes like this," Gadenne told the Guardian. "I have seen how these scams can totally ruin a holiday. I've had a family with little children in tears in front of me crying because they have been robbed and aggressed. Some tourists are completely traumatised. Nobody can be indifferent to this when they see how it affects the victims.
Credit/Source:  The Guardian